Rita1652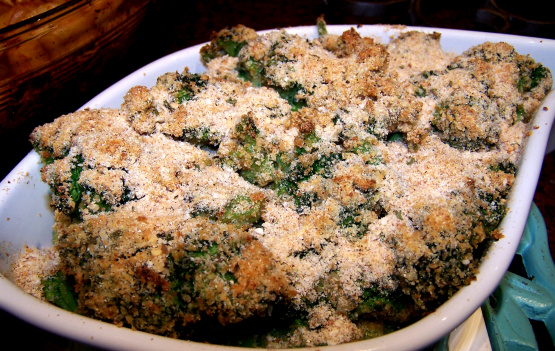 Had this at a church supper a couple of weeks ago and the lady who made it just gave me the recipe. I really like this side dish.

JIM, I must say this is yummy ADDICTIVE!!!!!!!! I did use frozen broccoli but i only used the micro to defrost and warm enough to melt 1/4 cup of the butter(didn`t use the other 1/4 cup). I upped the 1/8 teaspoon of garlic, mustard, paprika, ginger, to 1/4 teaspoon. After the microwave I place in the oven to just heat through. This is addictive!!! Thanks!!!!
Place frozen broccoli in a 2-qt casserole; add 3 tablespoons water. Cover and microwave on High, 7 to 10 minutes, stirring every 3 minutes. Let stand, covered 2 to 3 minutes.
Drain well; stir in butter.
Mix remaining ingredients together; reserve 2 tablespoons. Fold mixture into broccoli.
Microwave on high, 5 to 9 minutes, stirring every 3 minutes.
Sprinkle reserved crumbs on top.
Microwave 1 to 2 minutes longer.