Crispy Chicken With Peanut Dipping Sauce
Rita1652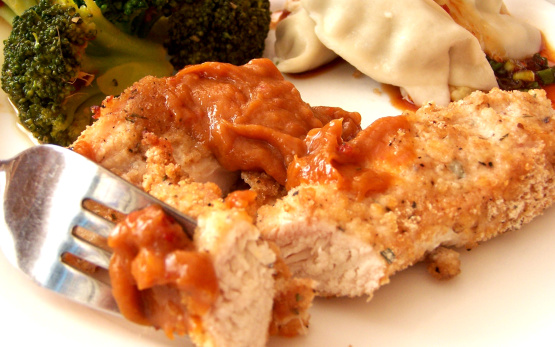 This recipe has chicken breasts, dipped in egg whites and rolled in a herb-crispy rice cereal flakes and baked, then served with a peanut dipping sauce. Made for RSC12. Changes have been made due to feedback from reviews...thank you for all your comments!!!

The peanut sauce was the definite highlight of this recipe - it was sooooooo yummy! The chicken was good by itself too, but I'm not convinced the seasoning in the coating paired with the sauce. I didn't have any rosemary so left it out. Next time I will also leave out the thyme - I like thyme but the flavor of it was incongruous with the peanut sauce. (I also used garlic powder instead of garlic salt.) The technique for the chicken was great (love the way the coating snap crackle popped LOL), but I only baked for 15 minutes which was plenty of time to cook the chicken and get the coating crispy - 30 minutes would have been way too long. I used 2lbs. of chicken tenders and the amounts of everything else were perfect for that quantity. Thanks for the recipe and good luck in the contest! ~August 22, 2008 UPDATE: I had to come back to say that I have made just the peanut dipping sauce many times but instead of a dipping sauce, I use it as a sauce for buckwheat noodles (with about half the water). Love it! My favorite peanut sauce I've had to date. Thanks again!
Spray 2 baking sheets with Pam. Beat egg whites with water in one pan. Mix flour, seasoning salt, pepper, garlic, salt and crushed rice cereal in another pan. Dip chicken strips in egg white, roll in cereal mixture and place on baking sheet. Spray with additional Pam to lightly coat chicken. Bake at 400 degrees for 20 minutes or until crispy.
Meanwhile prepare peanut dipping sauce. Into a small jar, add peanut butter and the next 7 ingredients. Shake until smooth.
Serve chicken with peanut dipping sauce.