PaulaG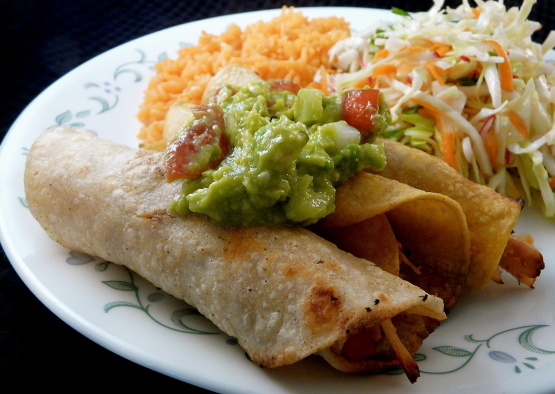 Crisp flautas are usually fried and full of fat. This recipe offers a grilled and reduced fat version. Serve wtih pico de gallo and non-fat sour cream, unless you don't give a hoot and have major oink tendencies like myself, in which case, go hog wild and use full-fat stuff.
Top Review by PaulaG
I was intrigued by this recipe because they are low in fat and I had never considered making flautas on the grill. I have an issue with using 4 bone-in chicken breasts for 12 fautas. I used half the white meat from a rotisserie chicken, 1-10oz can of Rotel tomatoes well drained and got 9 well filled fautas. For best results in rolling the tortillas they were microwaved for 10 seconds then dipped into a small amount of warmed olive oil. I used both white and yellow corn tortillas. The yellow corn seemed to crisp up better. For the white tortillas they were sprayed with non-stick cooking spary and that seemed to help them crisp. The flavor the filling is wonderful and definitely something I would do again.
Season chicken with salt and pepper and roast in oven for about 1/2 hour. When it's cooked through, remove bones and skin and shred the chicken.
Heat the chicken stock in a sauté pan over medium heat. Add onion and peppers and sauté until onion is translucent.
Add tomatoes and shredded chicken and simmer for 10 minutes.
Remove from heat, cool and drain any excess liquid.
Soften tortillas with a bit of chicken stock and place chicken mixture in the center. Roll up tightly and seal with two toothpicks. Spray lightly with cooking spray.
Place seam side down on medium flame on grill and turn while cooking until crispy - about 5-7 minutes.
You can also bake them in a preheated 375F oven about 20 minutes until crisp. Remove from grill, cut in half and remove toothpicks.