ImPat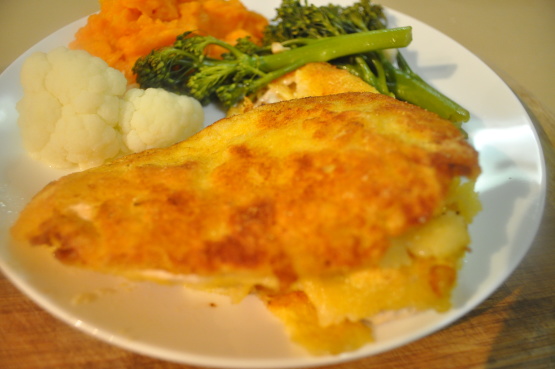 This recipe I made after I cooked and tasted the fried chicken recipe (id #63339) from Zaar chef Ellie. I like crispy chicken and that is how this turned out. It does require a lot of standing time, so it is a dish you will have to plan for time wise. Nice served with a salad. Prep time does not include the standing times.

Sure was crispy! I used 4 breasts too, and doubled the dry ingredients, and didn't have much left over. The chicken breasts I had were quite large. I used Frank's Hot Sauce in the buttermilk and let it sit for 3 hours or so. We enjoyed them a lot, but I think next time I will add more sesonings to the dry. I just put in a teaspoon of salt, a little pepper, and some onion powder. Very good, and summer-heat friendly. Thanks.
Flatten the chicken breasts between parchment paper or between plastic sheets.
Mix the buttermilk with the hot sauce and the garlic, put the chicken covered in the buttermilk mixture in a non-metallic dish, marinate for at least two hours turning them over once.
Mix the flour, cornmeal, cornstarch and seasoning in a shallow dish, take the chicken out of the marinade, let the buttermilk drip off, coat in the flour, coat the other breast then repeat the coating again starting with the first one.
If you still see wet parts on the breasts, coat again.
Put the chicken back in the fridge for at least half an hour.
Discard the marinade.
Heat the vegetable oil in a frying pan until it is pretty hot.
Fry the breasts until golden brown on both sides, lower the temperature and fry them until they are done, approx 10 minutes in total depending on the thickness of the breasts.