Peter J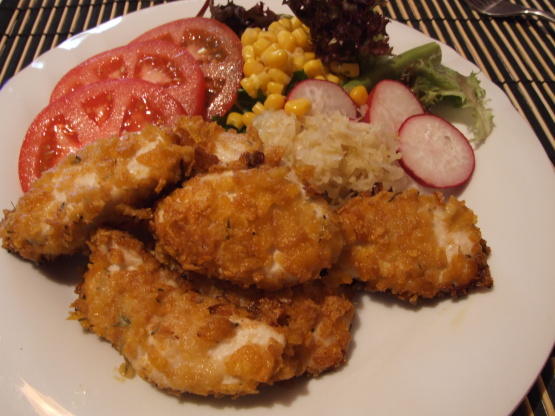 From Quick Cooking Magazine. (Now called Simple & Delicious). My kids especially love this chicken - I cut the chicken into strips or nuggets for them before breading and serve them with a homemade honey mustard sauce for dipping.

GREAT TASTING & EASY TO PREPARE, TOO ~ A very satisfying new way for me to prepare chicken breasts, thanks to you! The only change I made (which didn't affect the taste in any way) was to cut each of the breasts into 3 strips! I did, however, double the amounts of the coating ingredients just to make sure that I'd have enough for the extra surfaces I created! Absolutely wonderful, & the recipe is a definite keeper! [Made & reviewed in Zaar Chef Alphabet Soup tag]
In a shallow bowl, combine cereal, flour and seasonings.
Place butter in another shallow bowl.
Dip chicken in butter, then roll in cereal mixture.
Place in a greased 11-in. x 7-in. x 2-in. baking pan.
Drizzle with remaining butter.
Bake, uncovered, at 400 for 20-25 minutes or until juices run clear.
Yield: 4 servings.