Crispy Cheddar-Parmesan Chicken Breast
Cook4_6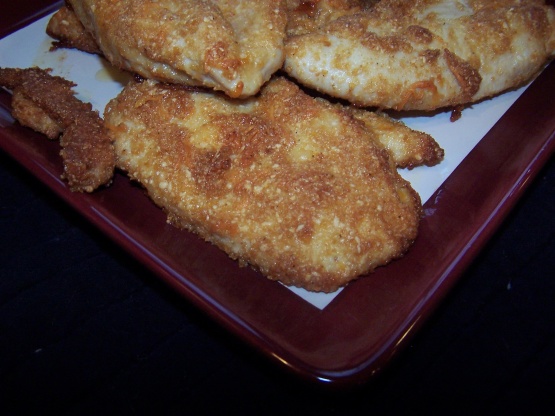 You may omit the Shake & Bake chicken coating mix and use about 1 cup cornflake crumbs :)
Set oven to 350 degrees F.
Set oven rack to lowest position.
Grease a medium jelly-roll pan (or a baking pan large enough to hold the chicken).
In a shallow dish combine the crushed cornflake crumbs with the Shake & Bake chicken coating mix, Parmesan cheese and grated cheddar cheese.
In a bowl combine the melted butter with garlic powder.
Dip each breast firstly in melted butter. then coat in the cornflake mixture.
Place on the baking sheet.
Season the top of each breast with a little seasoned salt and ground black pepper.
Bake for about 30 minutes or until chicken is just cooked through (baking time should be no more than 35 minutes).