Crispy Carrot and Potato Pancakes (Vegetarian)
Jubes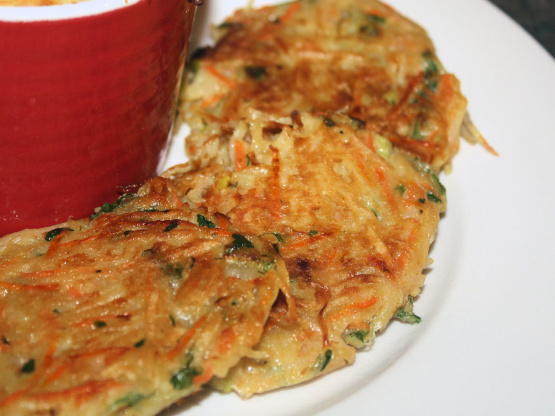 This easy-to-fix & appealing recipe is from the main-course vegetarian section of the *Best Ever Slimmers Recipes* cookbook of the Australian Womens Weekly cookbook series. IMO it also works as breakfast or brunch fare served w/fruit or as an excellent side-dish to combine the veggie & potato parts of a meal. I made them as a side-dish to leg of lamb & the yield was exactly as stated. We tasted them plain, buttered & w/a dollop of sour cream - all excellent! For an extra *carrot kick* , try pairing them w/my Carrot Butter Challenge. *Enjoy* !

These were good but I would have liked them even crispier. I didn't think I would like the cumin but I did! Good cakes :)
Rinse grated potato in cold water, squeeze out as much liquid as possible & pat dry.
Combine all ingredients, add salt & pepper as desired & mix well.
Drop 2 tablespoons of mixture for each pancake into a large, lightly greased, non-stick frying pan & cook over med-heat for about 5 min on each side or until golden brown & carrot is tender. Repeat cooking process for remainder of mixture & microwave a min or 2 to reheat before serving.
NOTE: This mixture will be wet despite how careful you are to remove excess liquid, but do not panic. The pancakes will cook & crisp nicely as shown in the picture.