Crispy Buttermilk Chicken
ImPat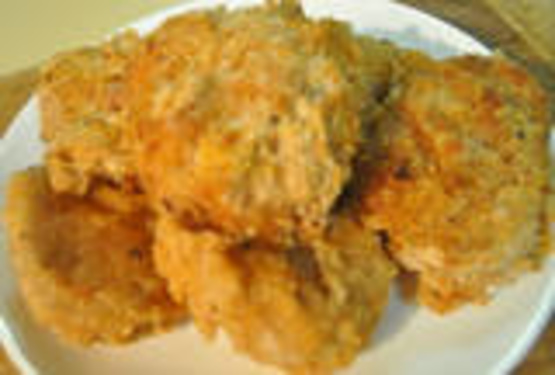 An easy and tasty supper solution,although a little prior planning is required. I quite often use chicken breasts,and cut them into goujons for the kids to dip into sauces! Great served with a simple salad.

This is a really, really good Baked Buttermilk Chicken recipe. I used part chicken drumsticks and chicken breast and it worked great on both. I always marinate in a plastic bag as it gives a better coverage, I find, and such I halved the buttermilk but left the spices the same. I marinated for 3 hours. I made the breadcrumb mix using only 1 cup of breadcrumbs but kept the spices the same. After breading the chicken I stil had more than 1/2 of the breadcrumb mixture left. Worth noting for people that keep an eye on the calorie/carb intake, as the reduced buttermilk and breadcrumb usage cut the calories back by 125 per serving or by 25%. I will for sure be making this again, the flavours were great (we couldn't really tell that there were lemon zest in the mix). I served it with Recipe #249175 and Recipe #409412. Made for PRMR.
Combine buttermilk,coriander and paprika in a bowl.Add chicken,turn to coat.Cover and chill for two hours.
Preheat oven to 200 degrees c.Grease a large baking tray.
Combine breadcrumbs,oregano,lemon rind and sesame seeds in a large bowl.Add salt and pepper to taste.Remove chicken from buttermilk mixture,and toss a piece at a time into crumb mixture.Place on the prepared tray.
Bake for 30 mins or until golden and cooked through.