Crispy Baked Chicken Strips
VickyJ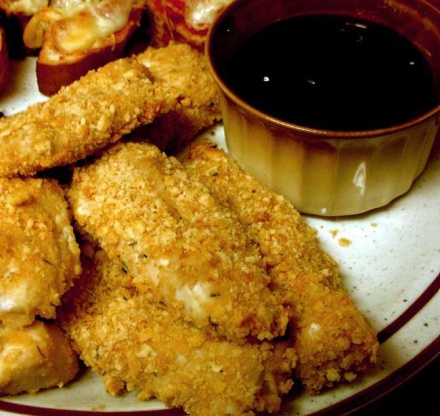 These are delicious! And much more cost-effective than buying chicken nuggets. Nice and juicy, yet crisp on the outside, too. Yummy, yummy! For an Italian twist, omit chili powder and substitute Italian seasonings. Makes two dinner servings, or 4 lunch/appetizer servings.
I used chicken tenders, which I left whole since they are so small. Used Ritz crackers and the seasonings as listed. Baked for 15 minutes and turned the tenders over halfway through so they would brown on both sides. While the chicken was moist, tender and a pretty golden color, we could not taste any seasoning and found them to be very bland unless dipped into barbecue sauce.
Cut chicken breasts into thin strips, about one inch wide.
Longer sections can be cut in half to have uniform pieces.
Mix cracker crumbs and seasonings well.
Dip chicken pieces into egg mixture, then dredge in crumb mixture.
Place on baking sheet sprayed with cooking spray.
Bake at 375 degrees F, for 10-12 minutes, until crispy on outside and lightly browned.
Dip into favorite sauce, or enjoy just as they are!