Crispy Baked Chicken Breasts
Kree6528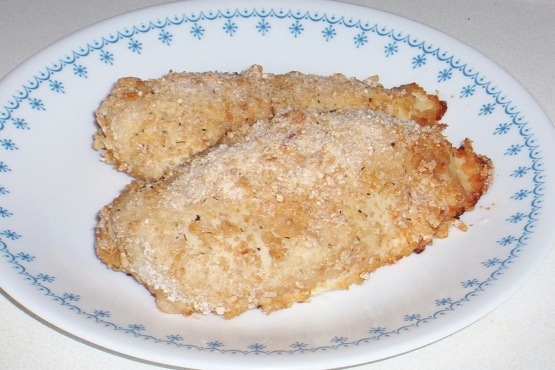 This is the only recipe I use to cook chicken breasts. My husband always complained about chicken breasts being too dry, but he likes this recipe because the meat stays juicy and the seasonings give the chicken good flavor.

We really liked this too! I'm always looking for a coating for oven chicken breasts,that won't dry out the chicken,or have the coating stick to the pan,before you can even have a bite. I made 5, in case my daughter would want another, and she did! So no left-overs here either! Only thing different I did was lightly salt and pepper the chicken before coating,and increased the thyme and poultry seasoning. I didn't have to drizzle with left-over butter, because I used that Reynold's Release stuff,and it turned out great. Thanks a lot - it will be in my list of chicken dishes now! MEP
In a medium size bowl, combine cereal, flour, salt, dried thyme and poultry seasoning.
Place melted butter in another bowl.
Dip chicken in butter, then into cereal mixture.
Place breaded chicken into a greased baking pan.
Drizzle chicken with remaining butter.
Bake, uncovered, at 400 degrees for 20-25 minutes or until chicken juices run clear.