Alskann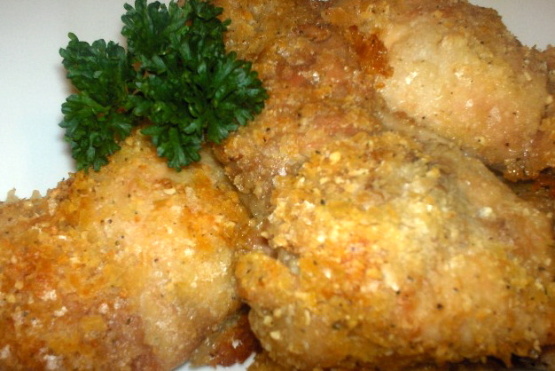 If you like chicken this is a good recipe to try. It is flavorful, and I have served it a number of times. Very quick and easy to make if you are on a tight schedule.

This is a keeper!!! So easy to make and tasty to eat! Adults and children alike loved it. I followed the recipe exact except I omitted the msg. I used boneless, skinless chicken thighs. Using breasts would cut the calories even more. Thanks Carolyn for posting this delicious recipe. Made for Spring PAC '08.
2⁄3 cup instant potato flakes
1⁄3 cup grated parmesan cheese
1 1⁄2 teaspoons accents flavor enhancer
3⁄4-1 teaspoon garlic salt

1

(3 -3 1/2 lb) cut-up frying chickens (skinned, if desired)
Heat oven to 375 degrees. Grease or line with foil, a 15x10x1 - inch baking pan or 13xx9 baking dish.
In medium bowl, combine potato flakes, parmesan cheese, flavor enhancer and garlic salt; stir until well mixed.
Dip chicken pieces into margarine; roll in potato flake mixture to coat. Place in greased pan.
Bake at 375 degrees for 50-55 minutes or until chicken is tender, no longer pink, and golden brown.
4 -5 servings.