Alskann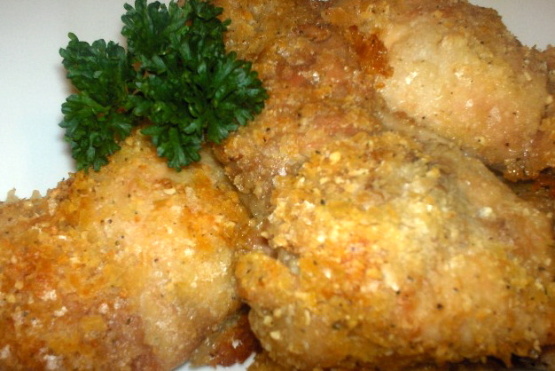 If you like chicken this is a good recipe to try. It is flavorful, and I have served it a number of times. Very quick and easy to make if you are on a tight schedule.

This is a keeper!!! So easy to make and tasty to eat! Adults and children alike loved it. I followed the recipe exact except I omitted the msg. I used boneless, skinless chicken thighs. Using breasts would cut the calories even more. Thanks Carolyn for posting this delicious recipe. Made for Spring PAC '08.
158.51

ml instant potato flakes

78.07

ml grated parmesan cheese

7.39

ml accents flavor enhancer

3.69-4.92

ml garlic salt

1360.77-1587.57

g cut-up frying chickens (skinned, if desired)
Heat oven to 375 degrees. Grease or line with foil, a 15x10x1 - inch baking pan or 13xx9 baking dish.
In medium bowl, combine potato flakes, parmesan cheese, flavor enhancer and garlic salt; stir until well mixed.
Dip chicken pieces into margarine; roll in potato flake mixture to coat. Place in greased pan.
Bake at 375 degrees for 50-55 minutes or until chicken is tender, no longer pink, and golden brown.
4 -5 servings.