Cathy17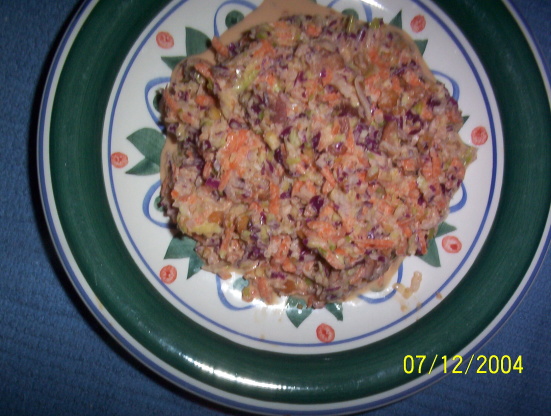 The peanuts and bacon add extra flavour to this cole slaw.

I'm not a big coleslaw maker, but this was really quick and easy to make. I cut the cabbage in half but made the specified amount of dressing because we like creamier coleslaw. I used green and purple cabbage and added some carrots to give it color. When I mixed the dressing, it was a tad mayonnaisey, so I added a splash of sesame oil and a capful of white vinegar. I only had 2 bacon strips and I used chopped roasted peanuts. This was very good and tasted even better the next day! DH really liked it as did I! Thanks Fluffy!
Mix dressing and sugar in large bowl.
Add remaining ingredients; mix lightly.
Refrigerate.