Derf2440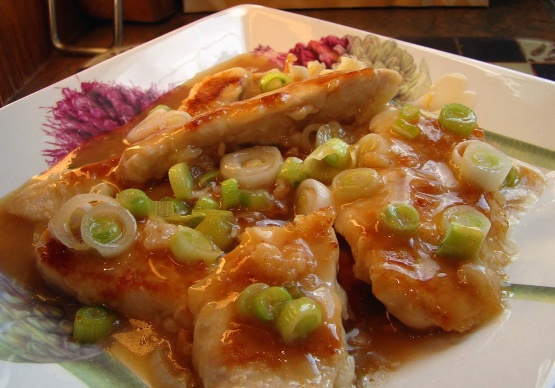 Top Review by Robyn
This was just ok for us, it was VERY tart and lemony and I doubled the sugar. It was lovely to look at and I do like the method for cooking the chicken but for us it was just overpoweringly lemony. I pounded the breasts to make them flat and served over rice, I actually do want to make this again but I am going to sub orange for the lemon. This was in NO WAY bad, just very very lemony which I am sure some will love.
Lemon Sauce:- Mix cornflour with the lemon juice. Mix the lemon rind, stock, ginger, brown sugar and cornflour mixture together in a saucepan.
Bring to the boil and cook for 1 minutes.
Set aside while preparing chicken.
Crisp Chicken:- Lightly beat the egg whites, cornflour and water together.
Dip the chicken in this mixture. Heat the oil in a wok or frying pan and fry the chicken until the juices run clear.
Pour over the lemon sauce and served garnished with chopped spring onion.