Crisp Fried Smelt - Smelts
Rita1652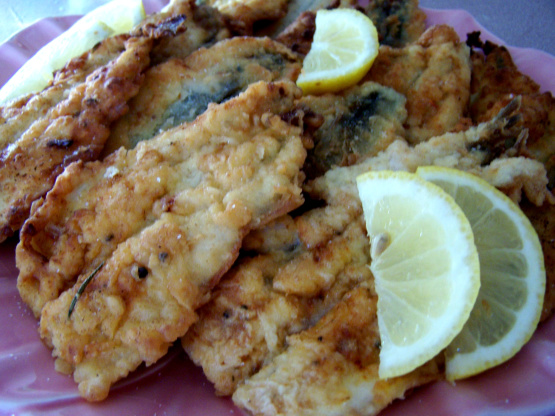 I remember making these as a young girl during lent. The last time before today was for my FIL who is gone now for 22 years. He enjoyed them so. These small fish are very addictive. This simple recipe is easy quick and only 4 ingredients. Smelt is the name of a family of silvery fishes found in cool waters. Most measure less than 8 inches (20 centimeters) long. Smelts have a small, fleshy fin behind the dorsal fin on the back like trout and salmon. This is very inexpensive, making it great for those on a tight budget.

This recipe is just about perfect. It's almost exactly like my dad's recipe from years ago when he used to cook them. I simply used a plastic grocery bag to flour the little critters, used a cast iron skillet to fry with and they were outstanding! YUM.

I found the smelts at an international market where they had already prepped and cleaned them. I also added a small amount of garlic powder to the flour mix as well.
1⁄2 lb fish fillet, of Smelts which is the name of a family of silvery fishes found in cool waters of the Northern Hemis
2⁄3-1 cup flour

1

egg

2

tablespoons milk
oil or Crisco (for frying)
Place flour in gallon or quart size storage bag add fish shake to coat.
Mix egg and milk together and dip fish to coat. Then reflour the fish.
In a large hot pan add frying oil or Crisco to cover bottom of pan, heat oil then place fish in till browned on one side flip and brown. About 2 minutes.
Remove to paper towel or brown paper to drain oil season generously with salt and pepper and garnish if desired with lemon.