lets.eat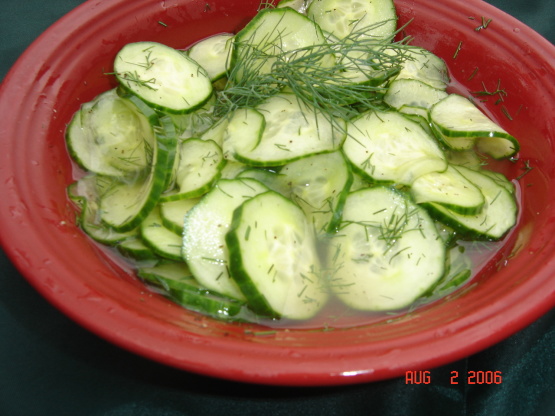 A fresh and original salad, full of the simple flavors of summer. Cook time is chill time! Recipe is from Light & Tasty.

Top Review by Debbb
Very good! I quite enjoyed these marinated cucumbers. The flavour was great - not too sweet. I let them marinate overnight & my cucumber slices ended up a little soggy, not as crunchy as I would have liked. According to my husband, my slices were more like 1/4 inch not 1/8 inch - so I thought they would have stayed firmer.
Place cucumber slices in colander over a plate. Sprinkle with salt and toss.
Let stand for 15 minutes, stirring once; rinse and drain well.
Combine remaining ingredients in large bowl.
Add drained cucumbers and toss to coat.
Cover and refrigerate for at least 15 minutes before serving.