Crisp Cucumber Ribbon Salad

Very Asian, and yummy!
Make and share this Crisp Cucumber Ribbon Salad recipe from Food.com.
1 lb cucumber, washed and unpeeled
1⁄2 lb radish, trimmed
1 bunch fresh chives, chopped (about 2 tablespoons end result)
3 tablespoons rice wine vinegar
1 tablespoon peanut oil
Directions
Using a vegetable peeler or a mandolin, cut the cucumbers lengthwise into thin ribbons.
Slice the radishes thinly.
In a large bowl, toss the cucumber ribbons with the sliced radishes, chives, rice wine vinegar and the oil.
Chill.
Reviews
Most Helpful
Wow, what a recipe! Loved this, and made the prettiest presentation. I used my OXO Mandoline, and made lovely, thin, ribbons. The only change was just adding a couple of strikes of dried red pepper for presentation. Thanks for sharing this great recipe, and for the love of all things cucumbers! Made for Rainbow for your Health - Diabetic Forum 2011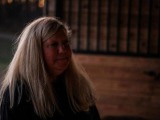 Very nice and fresh salad. Next time I'll add a little garlic. Thanks for sharing this recipe.