Crisp Cucumber Freezer Pickles
Chef Dee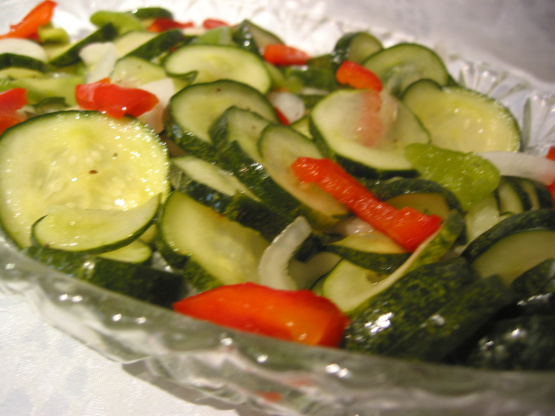 This is a sweet cucumber pickle. These pickles stay crisp for up to a year in the freezer. They are so easy to make and very good. I have just defrosted a bag (pictured here) after 8 months in the freezer and they are still as crisp as the day I made them.

This is a great recipie! I have been using this same recipie for years. It's hard to believe that the cucumbers stay crisp after they have been in the freezer. For those of you who like creamed cucumbers, just drain a little of the juice off and add salad dressing. Mix and enjoy! (I usually don't let mine set for 72 hours, overnite works just as well)
Combine all the ingredients in a bowl.
Stir well, cover and refrigerate for 3 days. Stir every day.
Pack into freezer containers and cover with brine (I use ziplock bags to have the pickles in small portions and then place the small bags in a larger freezer container). Freeze Thaw before serving.