Crisp Butter Cookies (Refrigerator Cookies)
byZula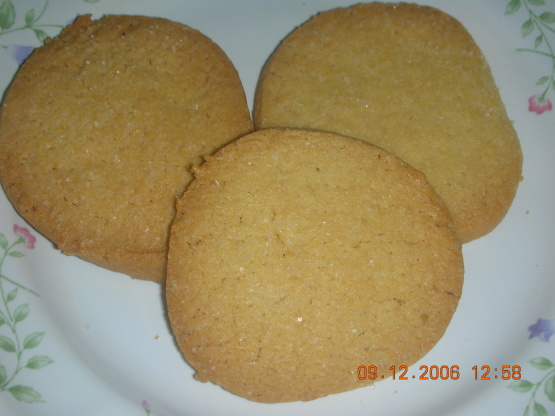 These are really good! Buttery and crispy just like the name suggests! Since these are refrigerator cookies, this is a very handy recipe. These can keep in the freezer for up to 6 months.

I gave this recipe 5 stars. I love this recipe these cookies are so good and easy. I got my copy of this recipe in school from home ec. class. The copy I have is slightly different. It calls for 3 cups flour, 1 Tsp salt, 2 eggs, and 1 1/2 Tsp vanilla. The recipe also calls for different things to mix-in and make different cookies. Cookie Tarts: Spoon 1 Tsp jelly or preserves onto half of the slices: top with remaining slices. Seal edges. Cut slits in tops so filling shows. About 3 1/2 dozen sandwich cookies. Crunchy Peanut Cookies: Substitute 1/2 cup crunchy peanut butter for 1/2 cup of the margarine and packed brown sugar for the granulated sugar. Nut Cookies: Mix in 1/2 cup chopped blanched almonds or black walmarts with the flour. Orange-Almond Cookies: Mix in 1 Tbl grated orange peel with margarine and 1/2 cup chopped blanched almonds with the flour. Thanks for posting such a yummy recipe! Christine (internetnut)
Combine the flour, baking soda and salt. In a large bowl, cream the butter and sugar. Beat in the egg. Gradually blend in the dry ingredients.
Divide the dough in half. Form each half into a log 1 ½-inches in diameter. Wrap in waxed paper and chill for 4 hours.
Preheat oven to 400 degrees. Lightly grease 2 baking sheets. Cut the logs into ¼-inch thick slices and place 1-inch apart on the prepared baking sheets.
Bake for 8 to 10 minutes; until lightly colored.
Transfer to wire racks to cool.