Brenda.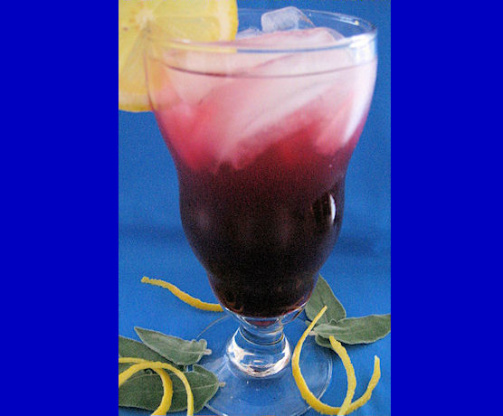 This make ahead drink is great for parties, and can be served with or without alcohol. The pomegranate and sage combine for a surprisingly light and delicious drink, and guests who have tried it always ask for more! I like to make this the night before, but the drink will actually be good for up to a week in the frig. This has become a new holiday favorite in our house. Servings per recipe will be determined by the size of drink served. I like to serve these drinks in wine glasses or small tumblers.

Delicious! I'm so glad you posted this recipe. I made this last night using lemon juice concentrate vs fresh lemon juice. I have to say that even though it was good last night, it was awesome today after being refrigerated for about 18 hours. I used Sprite as my mixer and am enjoying a glass as I type. The sweet yet tart flavor with a hint of sage is addicting. I suppose if I wanted it less sweet I would try the club soda or even diet Sprite. Thanks for posting Katey I'm sure by tomorrow I'll have another batch simmering.
To prepare:.
Combine all ingredients except lemon juice and wine in a sauce pan.
Bring to a boil, stirring occasionally until sugar is dissolved.
Reduce heat and cook uncovered for 10 minutes, stirring occasionally.
Remove from heat and add lemon juice.
Transfer to a glass container and refrigerate for at least 4 hours and up to one week.
When ready to serve:.
Strain out lemon peel and sage leaves.
In a glass with ice, combine equal parts drink and wine (or club soda).
Serve with a fresh sage leaf, if desired.