Crevettes With Feta and Tomato Sauce
Rita1652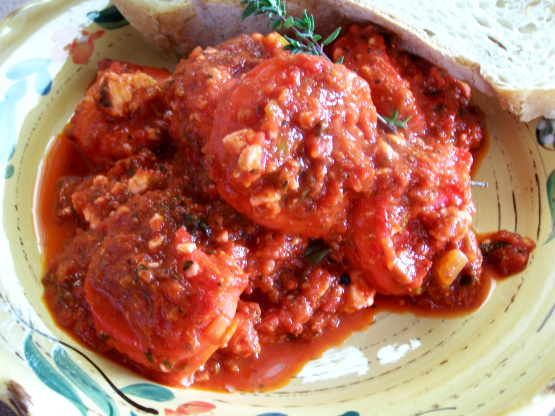 Greek chef and restaurateur Theodore Kyriakou (widely considered to be the finest Greek chef in Britain) tells us that "As soon as the first warm sunshine comes after winter and the restaurants start to put tables outside, this is their star dish.... As with most prawn dishes, you should start with the largest, freshest prawns you can buy. Fresh prawns are glossy, they smell of the sea without a hint of ammonia and do not need rinsing." This recipe is from 'real Greek food', which Theodore Kyriakou co-authored with food writer Charles Campion. I am posting it for the 2005 Zaar World Tour. You may want to use Theodore Kyriakou's Tomato Sauce Theodore Kyriakou's Tomato Sauce, when making this recipe.

This was different and delish. First I used 2 tablespoon oil, 1 to sautee the onions then 1 to sautee the shrimp(crevettes not used). Didn`t pour any on top. Used 1 cup sliced scallions for the bunch of spring onions. Didn`t have ouzo so I used the same flavored liquor I got from Aruba which the only difference is it`s sweeter and its red. The feta never really melted just softened. I would be carefull when using the full amount of oil when sauting the shrimp which gets ignited. I had a full flame and used a small portion of the oil that was called for. But all in all we enjoyed this very much. Please do take note the stars are based on how I prepared it! Thanks!!!
Preheat the oven to 180°C/350°F/Gas 4.
Pour the tomato sauce into a large flat oven dish and pour the tomato sauce into it, scatter the feta on top and put it into the oven for 5 minutes until the feta begins to melt.
Heat 25 ml (just short of 1 tablespoon) of olive oil in a frying pan, add the spring onions, garlic and thyme; and gently sauté for 5 minutes or until the onions are soft, then stir them into the tomato sauce in the oven dish. Return the dish to the oven to keep warm.
Put the pan back on the heat, add the remaining olive oil and sear the crevettes (or prawns) for 2 or 3 minutes. Then flame the pan with the Ouzo.
When the flames have died down, add the crevettes and the pan juices to the oven dish full of tomato sauce. Season with black pepper and mix everything together and return to the oven for a further 10 minutes to allow the flavours to amalgamate.
Remove the dish from the oven, and pour the extra virgin olive oil over the top.
Allow the dish to cool a little before serving so that it can be eaten by hand with crisp bread.