Cretan Meat Pie (Kreatotourta)
awalde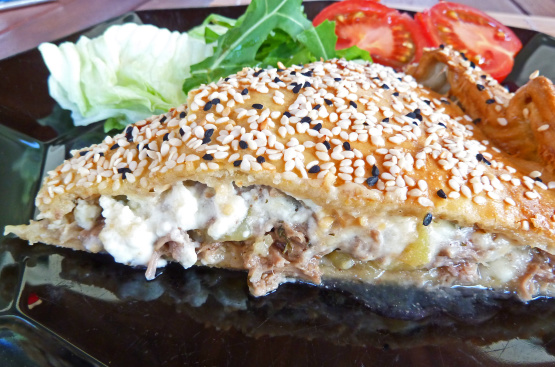 This traditional Cretan recipe is one of our favorite Greek dishes. I had this many times in a restaurant and wanted to reproduce this at home. The original recipe includes 3 kinds of Cretan cheeses (mizithra, malaka and staka), but it is almost impossible to find our Crete cheeses and we have to substitute it with different ones. Spearmint is essential for this recipe!
For a 32cm-diameter Cretan meat pie you need for the dough (substitute pizza dough)

1

cup warm water

6 -9

g dried yeast (one packet)

1

dash salt
1⁄4 cup olive oil

3 -4

cups flour

FILLING

600

g lamb, chunks boiled until tender (20 oz.)

350

g mizithra cheese (substitute ricotta)

20

leaves mint, finely chopped

1

dash cinnamon
1⁄2 teaspoon oregano (optional)
1⁄4 cup meat juice (optional, see note at end of recipe)
salt, pepper to taste

1

egg yolk, beaten, for brushing the pastry

2

tablespoons sesame seeds (or a mixture of sesame and black cumin seeds)
Dough (traditional way): Put the water in a large bowl and sprinkle it with the yeast. When you see some small bubbles on the surface of the water, you know that the yeast is working. Add the salt and oil. Mix this into the water, and add about 3 cups of flour to make dough. Add enough flour to make smooth, elastic and not very sticky dough.
Dough (with kneading machine): I throw everything in the kneading machine for 10 minutes and it works perfectly, but I cannot assure you that it would be the same for you.
Let the dough rise a little before putting it in the baking dish (20 minutes is enough).
With 1/2 of the dough, roll out a piece to line a 34 cm tin (2 cm for folding).
Place it on the greased baking tray.
Season it with salt, pepper and oregano, according to taste.
Place the meat chunks on it evenly.
Sprinkle the mizithra over the meat, so that it spreads evenly over the pie.
Sprinkle the mint over the cheese.
Roll out another piece of pastry with the remaining dough.
Cover the pie with the dough and seal it around the edges.
Make a small opening at the top and bottom of the top pastry sheet (to let out trapped air in the pie while cooking).
Brush the pie with the beaten egg and sprinkle sesame seed all over it.
Cook the pie in a moderate (180°C / 350°F) oven for approximately 45 minutes; only the pastry needs to be cooked, while the meat and mizithra cheese will amalgamate inside the pie with the heat.
Note: I used lamb meat cooked with my mastelo Recipe #440773 and some of this juice. Just prepare more than for a single meal. This keeps in refrigerator for 3 to 4 days at least. After this time the juice will be a jelly. I cannot find mizithra here, but I get the Turkish "çökelek" (a skim-milk cheese precipitate) which is dryer than mizithra; for this reason I use more meat juice.