Cretan Bread Rings With Herbs or Spices
awalde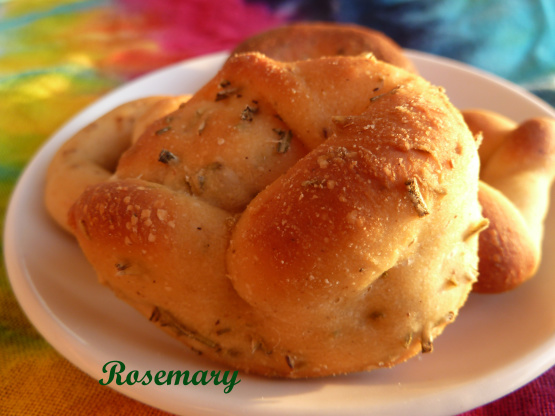 This is something very easy and successful that you can serve as appetizer with wine or other drinks. You can use your favorite herbs or spices dividing the dough and adding in each part a different kind of flavor and shaping them in different manner. I like them fresh and still soft inside, but you can cook them at lover temperature and longer for "grissini" like ones. For my guests I divided the dough in 4 parts adding anise seeds, coriander, rosemary (fresh) and oregano and y served them with white wine. I like small rings. As in my photos 4 pieces fits on a small espresso plate!

I love playing with bread dough and I had fun making these yummy creations. The dough is beautiful and easy to work with, not sticky or stiff. I made one with onion poppy seed, one with Italian herb mix, one with garlic and basil and one with black and red pepper. I used the water pan method, which I like a whole lot more than dashing water on the hot oven floor for steam, I got wonderfully textured bread. Thanks so much awald, I love your bread recipes hon! :D
Dilute yeast in water, add flour, oil, salt, pepper and work until dough is soft and malleable (if necessary add some more flour). Cover with a towel and leave it rise until doubled.
Add herbs or spices (if you want make parts of the dough and add different spices or herbs) and work the dough one more minute.
Cut the dough into about 50 pieces. Roll thin strains of about 10 cm (4 inches) of lenght, shape the dough into rings, place in an oiled baking tin, quite apart from each other and allow them to rise again (I place them in the cold oven, with a bowl of warm water to increase the humidity and light onI).
Bake at 350°F/180°C until they gain a little color (about 10 minutes). Some poeple prefere bigger rings, in this case they will need at least 15 minutes.
Note 1: for soft rings place in the oven a try with boiling water.
Note 2: for dry rings reduce the heat and bake until golden. Dry them on a grid.
Note 3: make different knot for each kind of spices/herbs.