Ycooks2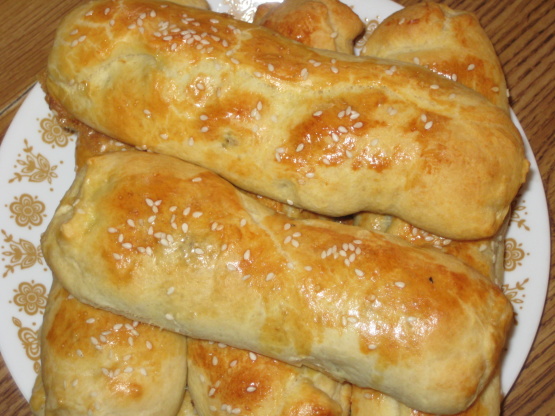 This is my version of a recipe that was printed in recent magazine. I couldn't get that recipe to work for me; however, with a little patience this was the end result. The sausage I used was a pork and turkey sausage blend.

These were very good, they reminded me of those HOT POCKETS (even tho I don't buy them). I think one could make these substituting other meats and other flavors of cheese for the pork sausage. I bet one could also make these with scrambled eggs, cheese, and cooked meat, and have them for breakfast. When I made these, I used already seasoned pork sausage, (which our family makes) and since our seasoned pork sausage already has garlic, onion, sage, salt & pepper in it, I didn't add the basil or chives. I did add a bit more cheese, (about 3/4 cup) and used 1/2 cup of extra sharp white cheddar, and 1/4 cup sharp cheddar. Next time I may add 1 cup of the cheese. My husband says no matter how much cheese you add, you still can't see or taste it in the sausage rolls. I found these were done baking within 13 minutes, but to be sure they weren't doughy, I turned off my oven, then placed them on the upper rack, and let them sit in the oven for 2 more minutes. After I removed them from the oven, I let them sit for 5 minutes before we ate them. The next time I make these, I'm going to add a few red pepper flakes, but I'll add it when I stir in the cheese. I'm sure my hubby will like them even more made that way. By the way, I found these made 2 servings, rather than 4 servings (2 per each person). One more thing I wanted to add...when I rolled up the crescents, I rolled them up from the short end, (like one would do when making a jelly roll) as the other way did not work too well for me. Thank you Paula for sharing this recipe, as they were very good!
Preheat oven to 350 degrees.
Brown the sausage and garlic, drain well.
Stir the snipped chives, basil and cheddar cheese into the drained sausage.
Line a cookie sheet with parchment paper and separate the crescent rolls into 4 rectangles.
Lightly roll the cresent rolls out, sealing at the perforations.
Brush each lightly with a portion of the beaten egg, top with sausage mixture and roll up from a long side.
If necessary, pinch seams to seal, brush with remaining egg, sprinkle with seasame seeds if desired and bake for 15 to 20 minutes.