GaylaJ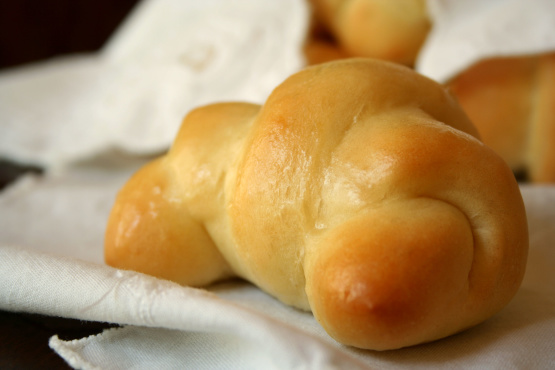 A friend of the family shared this recipe several years ago. These rolls are very impressive and look like you have worked hard...only the cook knows. Prep/cooking time does not include rise time.

Top Review by GaylaJ
Great rolls! I make crescent rolls as part of our Thanksgiving and Easter meals each year. I had settled on a favorite recipe several years ago and had been making it since, but decided to try a new one this past Easter. I think I made a good choice with this one. :) I always make the rolls ahead of time, underbake them just a bit, then reheat in the oven right before serving. And I always brush them with melted butter as soon as they come out of the oven (I think that's crucial :) ). Anyway, my Easter crowd loved these--thanks for posting the recipe!
Dissolve yeast, 1 Tablespoon sugar in the water.
Let stand (proof) for 5 minutes.
Mix butter, salt, milk and remaining sugar in large mixing bowl.
Add 2 cups flour mixing well.
Add yeast and beaten eggs. Beat well.
Add remaining flour or enough to make a soft dough.
Cover dough and let rest 20 minutes.
Knead dough on lightly floured board and place in a greased bowl.
Cover and let rise until double in bulk.
Punch down and divide dough into thirds. Roll into a 12" diameter circle, cut circle into 16 pie shaped pieces.
Roll up into crescent shapes starting with the wides end.
Place crescent rolls on greased cookie sheet and let rise 1 hour - cover lightly with plastic wrap or flour sack tea towel. Repeat with remaining dough.
Bake 10-12 minutes in 375º oven or until golden brown.
*Note - leave plenty of room on sheets - these rolls need plenty of room - do not crowd.