flower7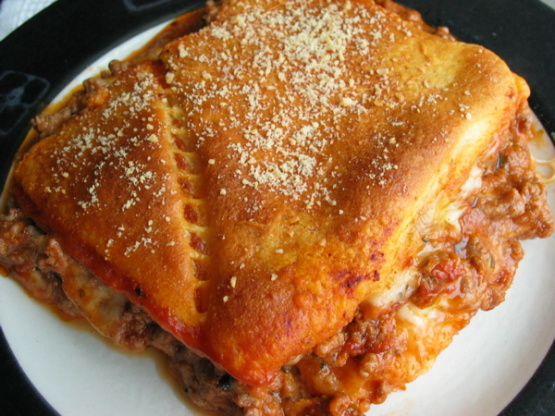 Too easy to be so good. When I made this my picky daughter said on a scale of 1 to 10 it was a 40. I have revised the spices after reading the reviews. If you do not have Italian Seasoning available you can use 1/4 tsp oregano, 1/4 tsp basil, 1/4 tsp thyme, & 1/4 tsp marjoram.

Came out great. Bottom layer not the least bit soggy. I doubled recipe to make in a 9x13 dish. Only changes were to use 12 slices of provolone on top & bottom (to fully cover crust) & 1 15 oz can + 1 8 oz can of sauce. Picky stepkids loved it.
Brown beef until no longer pink then drain excess grease.
Add the tomato sauce, olive oil, spices, & 2 tablespoons of parmesan cheese to the beef. Simmer on medium heat for 5 minutes. Remove from heat & stir in the sour cream.
Preheat the oven to 375°F Lightly spray an 8x8 baking dish.
Pull the crescent rolls apart but leave them in rectangle shape. (There should be 4 rectangles).
Lay 2 of the rectangles in the bottom of the pan, side by side. Gently spread out to fit the bottom of the pan.
Cover the crescent rolls with 4 slices of provolone cheese. (The cheese on the bottom helps keep the crescent rolls from becoming soggy from the sauce).
Next add the beef mixture & then 4 more slices of cheese. Take the remaining 2 rectangles on top of the last layer of cheese.
Lightly brush the melted butter over the crescent rolls & sprinkle the remaining parmesan cheese on top.
Bake for 25 minutes or until lightly brown.