Crescent Roll Breakfast Casserole
Tisa M.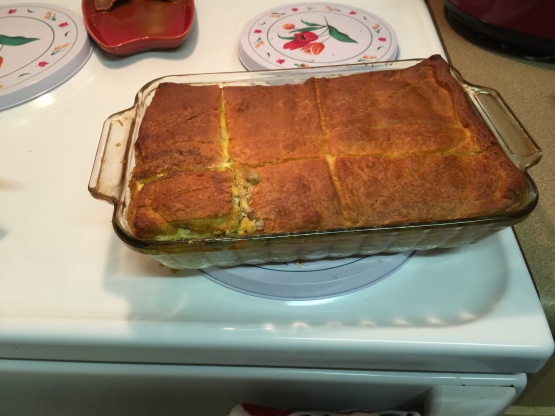 I received this recipe from a friend, and have only made slight variations. It's a big hit whenever company visits, and for work breakfast potlucks.

Cooked this for dinner. I substituted ground beef for the sausage and used pepper jack cheese instead of cheddar (which was awesome). It was a heavy dish though with the cream cheese but at least that made it edible. The beef/cream cheese mixture was so thick that the egg mixture didn't penetrate leaving with distinct layers. It wasn't a terrible dish but it wasn't a great dish by no means. It could be because our family likes zucchini pies and quiches and this wasn't anywhere close to those. I will give this recipe another chance with sausage but will have to add in some veggies.
Layout 1 can of crescent roll dough flat in cake pan.
Bake at 350 degrees for 10 minutes.
Brown sausage and drain. Mix sausage with cream cheese.
Spread mixture over dough.
Mix eggs and pour over sausage mixture. Spread cheese over eggs.
Layout crescent roll dough flat over cheese.
Bake for 25 minutes at 350 degrees.
If I don't have sausage on hand, will use hamburger and season with favorite hot sauce. Also, the original recipe calls for 2 cups cheddar cheese and 3 eggs scrambled (cooked). The baking time can then be cut back to 15 minutes, if eggs are already cooked.