Ms B.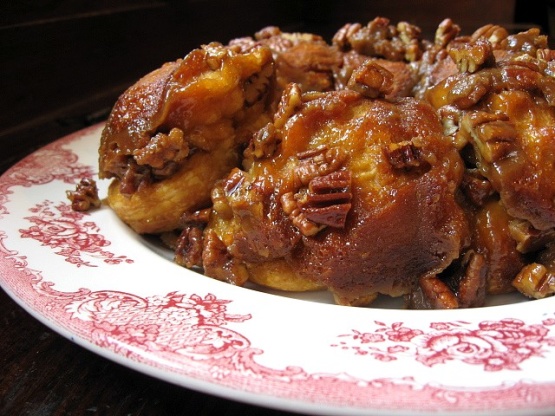 Delicious, quick treat for breakfast or brunch. Served by my wonderful neighbor, Jane, when she'd have us over to Tea.

I surprisingly had all the ingredients for this in my fridge. Like another cook, I increased the butter, nuts and brown sugar. I'm glad I did, or they would have been too dry. Leftovers are fairly dry, so microwave on low with wet paper towel. The butter from the bread, sweetness from the sugar and salt from the nuts was such a fun combination.
1⁄2 cup butter (do not use margarine)
1⁄2 cup chopped nuts, chopped
3⁄4 cup brown sugar, firmly packed

1

tablespoon water

2

(8 ounce) cans crescent rolls
Melt butter.
Coat bottom and sides of a bundt pan with 2 tbs of the butter, sprinkle pan with 3 tbs of the nuts.
Add remaining nuts, brown sugar, and water to the remaining melted butter.
Bring to a boil, stirring occasionally.
Boil 1 minute, stirring constantly.
Remove dough from tubes, do not unroll.
Cut each roll into 8 slices.
Arrange 8 slices, cut side down, in nut-lined pan.
Spreading out the layers of each pinwheel slightly.
Spoon half of the brown sugar mixture over dough.
Place remaining 8 slices on over bottom layer.
Spoon remaining brown sugar mixture over slices.
Bake at 350°F for 25-30 minutes, or until deep golden brown.
Cool 3 minutes, then invert onto a serving plate.
Serve warm.