SharonChen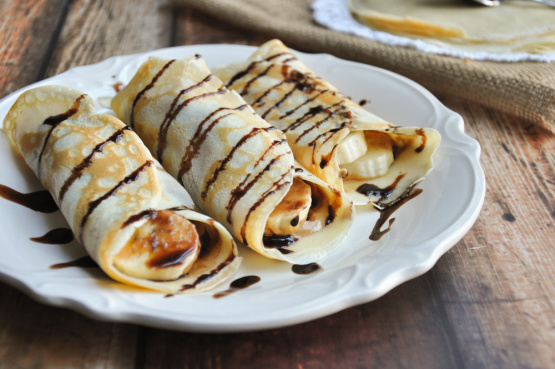 You can do SO much with a crepe. Make many different desserts.

These were PERFECT! My SO said these were better than any he has ever had in a restaurant. I used some sliced fresh strawberries and powdered sugrar and whipped cream. This was a great Saturday breakfast. Actually, I have been asked to make them again tomorrow morning! I prefered the ones I cooked until just doughy, not crispy. I am going to try them tomorrow with an apple filling (cooked with some brown sugar and cinnamon).I bet they will be great also. Thanks Inez :)
Combine flour, milk, eggs, and oil.
Add salt.
Heat a lightly greased 6 inch skillet; remove from heat.
Spoon in 2 Tbsp batter; lift and tilt skillet to spread evenly.
Return to heat; brown on one side only.
To remove, invert pan over paper toweling.
Repeat with remaining batter.
Fill with your favorite filling.
Here's a few we like: Any flavor fruit jam, sweetened fresh peaches, cream cheese and pineapple, ham and maple syrup.
Endless ideas.