Crepe Cake With Espresso Chocolate Glaze
Food.com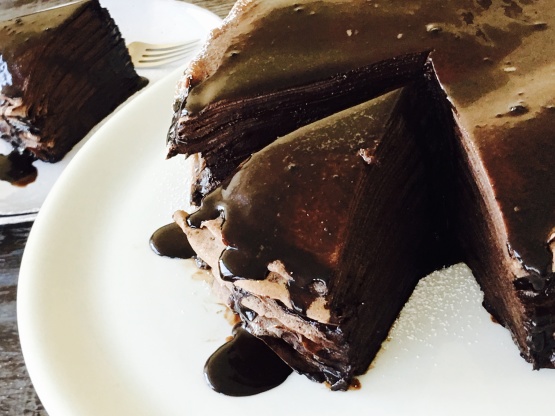 Not a cake but a large stack of crepes, this dessert is delicious but not overly sweet. The crepes are mildly chocolate-flavored, but the majority of the flavor comes from the glaze.

I am not a big fan of Espresso flavour in sweets. But I really liked this one. Thanks
Combine all crepe ingredients in a blender and blend until smooth.
Allow batter to rest in the refrigerator at least half an hour.
In a small bowl, dissolve espresso powder in water. (If you don't dissolve the espresso powder, the glaze will be grainy).
In a medium saucepan, melt chocolate over medium-low heat.
Add remaining ingredients and whisk thoroughly until smooth.
Heat until just boiling, then remove from heat and scrape glaze into a bowl. Refrigerate until batter has finished resting.
Bring an 8" non-stick pan to medium heat (allow about 3 minutes for heat-up time).
Spray pan with cooking spray. Pour in a few tablespoons of batter and quickly tilt the pan so that the batter covers the bottom of the pan in a very thin layer.
Cook crepe until edges barely start to peel away from pan.
Gently slide a long metal offset spatula under the crepe and flip it over.
Cook crepe just another minute and slide onto a plate.
Spread crepe with a thin layer of glaze.
Cook another crepe, stack on top of the first, and spread with a bit of butter.
Cook another crepe, add to the stack, and sprinkle with powdered sugar using a sifter or strainer.
Repeat this sequence until batter runs out, leaving top crepe bare.
Spread remaining glaze over top crepe and allow it to drip down the sides.
Slice with a sharp knife and serve. The cake will keep in the refrigerator for at least a day.