This is from Cooking Light magazine.
Directions
To prepare salad, alternate tomato and onion slices on a platter. Sprinkle with salt. Top with mint and chives.
To prepare vinaigrette, combine oil, vinegar, mustard and garlic in a jar. Cover tightly; shake vigorously.
Drizzle vinaigrette over salad and serve it at room temperature.
Reviews
Most Helpful
Lovely combinaton of flavours; so good when we are finally getting Good tomatoes at the market. Made thi for Everyday is a Holiday! Thank you for posting. Rita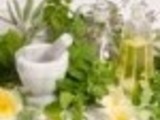 And thought caprese was the only way to eat tomaotes. Da.... delish, and a great way to eat fresh tomatoes. Made for holiday tag. Another simple keeper, thank to you engrossed.

This was very simple and fresh and a terrifically easy way to serve ripe tomatoes. Thanks for sharing! ~Sue