Acerast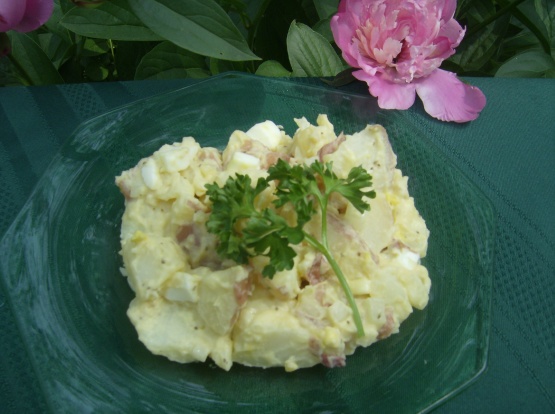 Yet another delicious recipe from the Pass It On cookbook compiled by the ladies at the Presbyterian Church in my hometown.

This was great! I am loving getting to try all the new recipes with each ZWT and am finding a new and unique potato salad with each and every tour. We have a lot of gatherings and cookouts during the weather permitting months and you can't have too many potato salads. What's great about this one is that it isn't likely to be a potato salad many people have tried before and variety is a good thing, you know! Could not find creole mustard around here, go figure, so just used the creole mustard recipe that is posted by Mysterygirl, which was a lovely substitution. Yeah!! So thanks for sharing this recipe and I'm looking forward to sharing it too! =) Made for ZWT 5 for the Genies of Gourmet.
Cook potatoes in salted boiling water for about 12 minutes or until the potatoes are tender.
Drain and cool slightly.
Combine the mayonnaise, mustard, vinegar, salt, horseradish, garlic salt, and red pepper in a large bowl.
Add the potatoes, eggs and onion.
Mix well and serve chilled or at room temperature.