Creole Dirty Rice - Clean Eating
KateL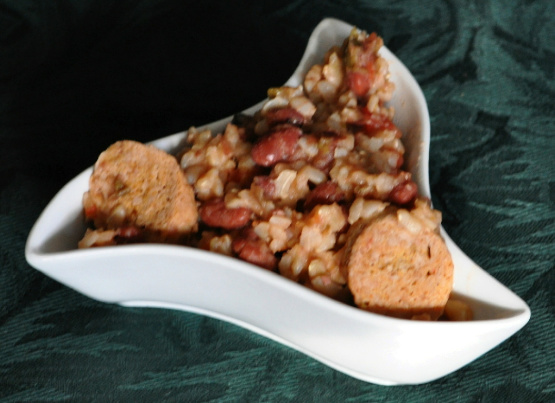 This is out of the May/June 2010 Clean Eating magazine. If you like heat double the amount of Cajun seasoning and add some cayenne pepper to taste. Cooking time does not include overnight soaking of bean. See note if you want to use canned red beans. Nutritional info per 1-cup serving: Cal: 292, Total Fat: 2g, Carbs: 53g, Fiber: 4g, Protein: 15g, Sodium: 427 mg, Cholesterol: 7mg from the magazine.

Top Review by KateL
Clean Eating provided a healthy alternative to a high-calorie side. It tasted okay, but the lean turkey sausages did not add sausage taste to the rice. I've become a big fan of turkey sausage, but Dirty Rice needs some old-fashioned sausage for punch. We added additional Tony Chachere's Creole seasoning to enliven the dish.
1

cup brown rice

7

ounces lean turkey sausage, smoked, deli fresh

1

medium yellow onion, diced

1

green bell pepper, cored, seeded and diced

3

garlic cloves, mined

8

ounces dried red beans, soaked overnight in water in a covered pot

1

bay leaf

2

tomatoes, preferably Roma, cored, seeded and finely chopped
1 1⁄2 teaspoons cajun seasoning
sea salt, to taste
pepper, to taste

4

tablespoons fresh cilantro, minced
Cook brown rice according to package directions. Remove from heat and set aside.
In a medium-size pot, cover sausage with about 3 inches of water. Bring to a boil, then allow to boil for 10 minutes. Remove from heat, drain and let cool for 5 minutes before slicing sausage.
Heat a large pot over medium-high heat. Mist with cooking spray and add onion, green pepper and garlic. Saute for about 5 minutes or until vegetables are cooked through. Drain soaked beans and rinse with cold water. Add beans, bay leaf and 3 cups water to pot with vegetables. Bring to a boil, then let boil for 20 minutes before reducing heat to medium-low. Cook until beans are soft, stirring occasionally and adding more water as it evaporates, about 2 hours. When beans are cooked through and water has reduced to less than 1 cup, add tomatoes and cook for at least 15 more minutes.
Remove bay leaf. Stir in Cajun seasoning, (and cayenne pepper if using), cooked rice and sausage and cook for about 10 minutes. Season with salt and pepper and garnish with cilantro before serving.
Tip: Since red beans can give your Creole Dirty Rice a dark hue, you can keep your soaked beans and rice mixture separate and mixing them together just before serving.
Note: If using canned beans make sure to rinse and drain them well before using. You will only need to warm them up for about 5 to 10 minutes instead of cooking them for 2 hours. And , you can reduce the water from 3 cups to 1/2 cup.