PanNan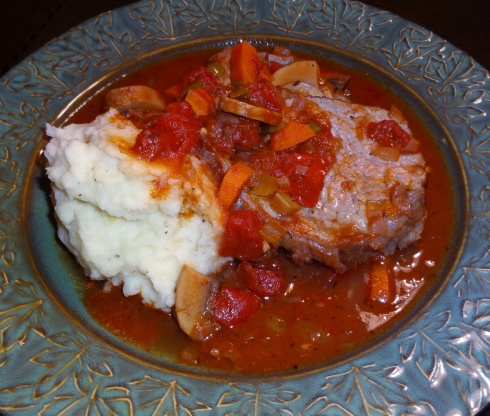 A recipe I found on Pinterest that looked delicious and I am posting it for ZWT, untried by me, but looks like a cross between a pot roast and swiss steak type of recipe. The recipe is posted on "Drick'sRamblingCafe.blogspot and here is what he stated: "In the late 1800's when Sicilian immigrants began settling in southern Louisiana, Creole cooking took on a completely new dimension. The influence of garlic for one and the use of tomatoes in making tomato gravy or red gravy such as the one featured in this recipe. This recipe will change the way you cook a roast and will fill your house with a wonderful aroma with the cuisine of long ago cooks. Enjoy!" There are several spices listed, but apparently it is common to post no specific amounts, so I would suggest starting with 1/8(maybe even less for the cayenne pepper) to 1/4 teaspoon and then taste and add more to your liking in the end.

Top Review by PanNan
Delicious! I've made and eaten a lot of creole dishes before, but never one with an Italian influence, so I was very interested to try it. It did not disappoint. I halved the recipe, and used 1 tsp thyme, 1/4 tsp cayenne pepper, and 2 bay leaves. I served it over mashed potatoes. I definitely plan to make it again one day. Made for the Trinity Challenge for Mike and the Appliance Killers - ZWT9.
Cut the roast in half and in a large skillet; brown each half on all sides in the olive oil. Remove and set aside.
In the same skillet with the oil, sauté onion, bell pepper and celery for 2 minutes. Add the garlic and cook for another minute. Add the tomato paste and stir for a couple of minutes to fry. Stir in the tomatoes and tomato sauce.
While this mixture slowly simmers, add to taste the thyme, bay leaf, oregano, cayenne, salt, pepper and sugar.
Add wine and Parmesan. Let simmer about 45 minutes.
Add carrots, mushrooms, and both pieces of roast and any juices that have accumulated. Cover and cook over low heat for a 2 to 3 hours.
Remove beef and slice against grain into half-inch slices. Serve with the tomato gravy on top or place the slices back into the gravy and cook on low another 15 to 20 minutes for a more traditional meal.
Serve roast and gravy over mashed potatoes or spaghetti (as suggested in the recipe) and top with additional parmesan cheese.