Creole Crab Stuffed Avocados
ImPat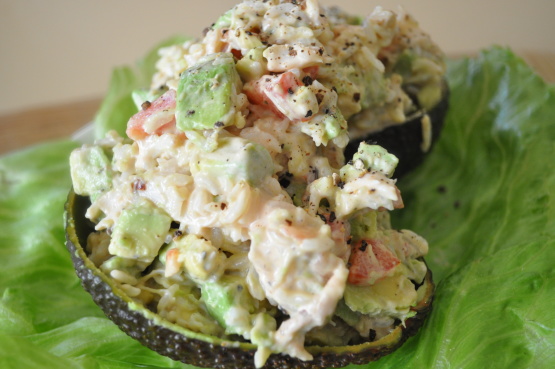 Recipe from www.letscookfrench.com and posted here for ZWT5. NOTE: after making this recipe, I have made some edits to the original recipe (it had too much mayo and it didn't give enough direction for the avocados).

Top Review by ImPat
I scaled this back to use 1 avocado and used fresh crabmeat and a generous splash of tobasco and thoroughly enjoyed for lunch (ended up eating 1 1/2 of the mix and was absolutely stuffed), definately would make a generous entree to a meal (1/2 an avocado that is). Thank you JanuaryBride, made for Aussie/Kiwi Recipe Swap #51 April 2011.
Steam the rice and let it cool.
In a small bowl, mix mayonnaise, mustard, salt & pepper, lemon juice, ketchup and tabasco.
Cut the avocados in half and scoop out the inside, leaving a small amount all around the skin to keep it sturdy. Set aside the skins.
Dice the avocado.
Sitr together the crab, mayonnaise mixture and the cooled rice. Then fold in the avocado and tomatoes. Taste the mixture and add any additional salt/pepper or seasoning that you like.
Fill each avocado half with the prepared mixture, sprinkle with chopped herbs and refrigerate until serving.