Peter J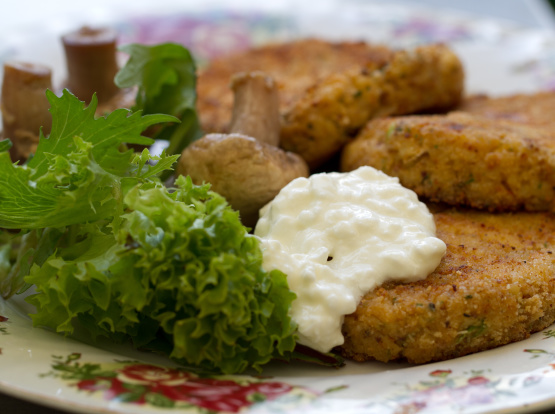 We've an abundance of crabs in coastal Louisiana. I know no one who has ever turned one of these down. Chill time not included. NOTE: For all the years that I've made these crab cakes, just recently I've used cracker crumbs in place of the breadcrumbs in the recipe and for the exterior coating and think that I might perfer that even more so.

Yummo! I thought the consistency as posted was perfect but what I did do to make them easy to handle after refrigeration was form them using egg rings, coated with crumbs, refrigerated a bit longer and flipped with care until a crust had formed. I always prefer that method rather than trying to add extra binding because it keeps things light and fluffy, this recipe was no exception and had a beautiful fluffy texture when cooked. I went with cajun and breadcrumbs to coat and they were great served along with a salad and dollop of cottage cheese.
Mix together first 12 ingredients, combining to evenly mix; shape into 6 patties.
Coat with flour or breadcrumbs. Chill at least 1 hour.
Bring butter to a sizzle in large skillet; cook on low heat 4 to 7 minutes on each side until golden.