Bergy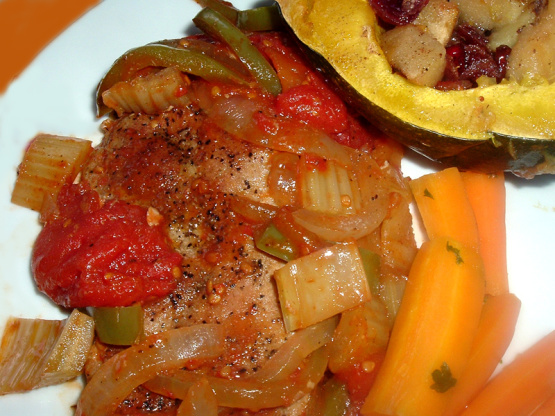 Perky pork chops, delicious!! Sprinkle a little parsley on top for added color.

I loved this recipe! Not only was it quick but tasty as well. I made it as directed but added more hot sauce (Cajun Sunshine) to my own. My daughter doesn't like her food spicy but we're working on that. I wish I had cooked the chops a little less but it was still terrific. I served it with rice and I think this will be the only way I cook pork chops for awhile! Thanx!!
Coat chops with flour; brown in oil.
Remove and keep warm.
In drippings, saute onion, green pepper, celery, and garlic.
Stir in tomatoes, and spices.
Return chops to pan.
Bring to a boil.
Reduce heat and simmer for 15 minutes.