Bergy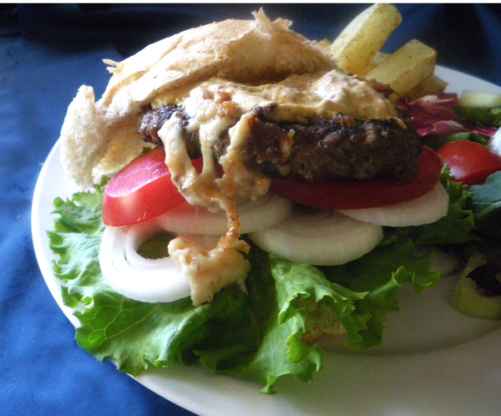 Adapted from a French's Mustard recipe. I love this one.

Top Review by Bergy
Another tasty Burger - I liked the Worchestershire sauce in my beef patty I did add some salt & pepper. I cut the recipe back to 1 burger, made two patties and slipped some skim milk mozzarella cheese between the patties and sealed them - but didn't seal them enough - the cheese leaked out Stil tasty The mayo mixture is excellent.
In a small bowl, mix together mayonnaise, mustard, and 1 teaspoon (more if you like things spicier) creole seasoning; set aside.
In a larger bowl, mix together the ground beef, worcestershire sauce and 1 teaspoon creole seasoning; combine well.
Shape beef mixture into 4 patties.
Grill or broil patties to desired degree of doneness, turning once.
Spread mustard mixture on split hamburger buns.
On bun bottom, add lettuce, tomato, onion, and patty; cover with bun top.
I dip each bite of my burger in ketchup, too--yummy.