diner524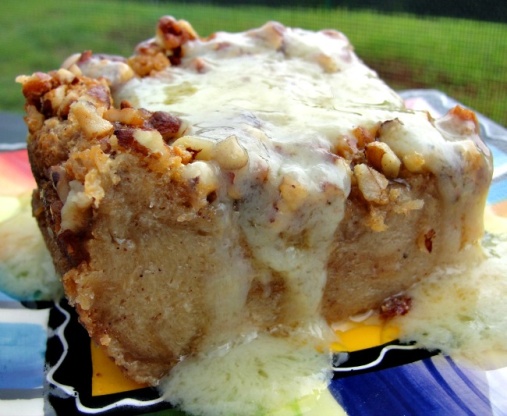 Recipe is from the historic Brennan's Restaurant in Houston, Texas. The Restaurant first opened in 1967 as a sister restaurant to the world famous Commander's Palace in New Orleans. Definitely not low calorie - would be a great special occasion dessert. Note: I am not fond of whiskey in my sauce; therefore, I prefer to leave it out entirely and use vanilla extract instead.
What a wonderful flavored dessert!! I have to admit up front, I had never had bread pudding so really wanted to try one and when I saw the challenge for the breads for ZWT 9, I just had to tag this one!! Since it is only DH and I (he hasn't had bread pudding either, lol), I scaled this back to 1/2 of the recipe and that is still a lot just for the 2 of us. I made this as written, including the whiskey sauce, but I think next time I would make it a vanilla sauce as Nancy suggested, especially if you are serving this to kids, as the alcohol doesn't really cook off and the sauce is very strongly flavored with the whiskey. But must admit, by the end of the eating this dessert, I didn't notice the whiskey flavor so much, lol!!! Just loved the flavor of the bread mixture with the cinnamon/nutmeg tastes and then loved the pecans and crunchy topping, so good. Thanks so much for sharing the recipe!!
Preheat the oven to 300 degrees F. In a large bowl, blend the sugar, cinnamon and nutmeg. Whisk in the eggs, milk, cream and vanilla. Tear the bread slices into big, bite-sized pieces and place in a lightly buttered 9 x 13 pan. Pour the custard mixture over the bread and allow to soak until soft, about 1 hour. Stir the raisins into the pudding and top with the nuts. Bake uncovered 1 1/2 hours. Prepare the whiskey sauce and keep warm until needed. Scoop the bread pudding into individual bowls and top with the reserved whiskey sauce.
To prepare the whiskey sauce: Heat the cream and sugar in a heavy-bottomed medium saucepan over medium-high heat until mixture begins to boil. Mix the cornstarch and cold water in a small bowl until smooth; slowly whisk into simmering cream. Simmer 2-3 minutes. Put the yolks into a stainless steel bowl; whisk. Temper the yolks by slowly whisking 1 cup hot, thickened cream mixture into yolks. Return the yolk mixture to hot cream mixture, whisking in slowly. After the mixture is whisked together, cook over medium-low heat until mixture reaches 140 degrees F. Remove from heat and pour through a fine mesh strainer. Add the whiskey, adjusting to taste, and keep warm until ready to use. Sauce may be stored in a covered container in the refrigerator up to 3 days.