BarbryT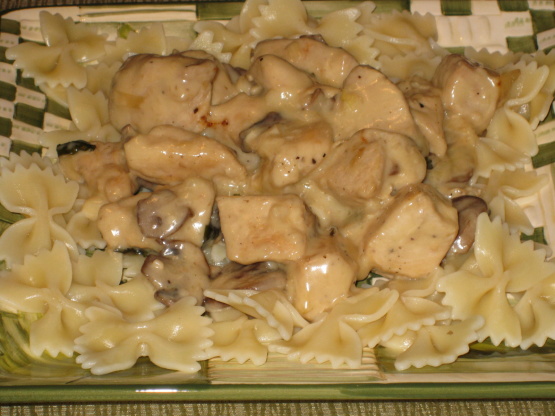 Cooking for 2 can be a challenge. This is a delicious dish for 2 that goes great with candlelight.

I chose this recipe to use up some leftover creme fraiche I had from another dish. The sauce takes about 10 minutes to make up, so have your pasta cooking while making the chicken mixture. The colour of the dish is very bland, so I would consider adding some steamed broccoli to liven it up! Thanks for the posting!!!
Cube chicken and sprinkle with salt and pepper.
Melt butter in a medium skillet, add chicken and cook until chicken is no longer pink and lightly browned.
Stir in garlic and onions and continue to cook until onions are translucent, add mushrooms and saute until soft.
Remove chicken mixture from pan and add white white to deglaze pan.
Cook until most of wine has evaporated, stir in chicken mixture, basil and creme fraice.
Stir and heat on low until thoroughly heated.
Serve over fresh cooked pasta, garnish with remaining 2 tablespoons creme fraiche and freshly grated cheese.
Serve immediately.