Creme Brulee French Toast
scancan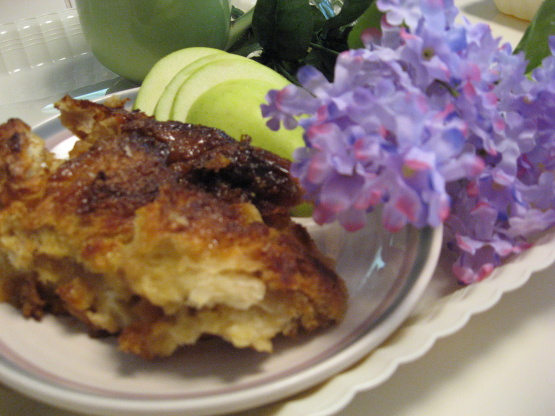 Although this is really a breakfast/brunch dish, my daughters occasionally beg to have this for supper. Occasionally I indulge them.

My family loved this recipe. It was soooo good. I used normal wheat bread because that's all we had, but I felt the texture would have been better with challah. Since my family loves cinnamon, I added a little on top. My mom agreed that it was even better with the cinnamon. Next time I'll put it in the with the egg mixture.
Combine butter, brown sugar and honey in a heavy saucepan over medium heat.
Cook, stirring constantly, until melted and smooth.
Pour into a 13 x 9 inch baking dish.
Trim crusts from bread and arrange in one layer in the baking dish.
Whisk together the eggs, half and half, Grand Marnier,vanilla and salt in a large mixing bowl.
Pour evenly over the bread.
Cover and refrigerate 8 hours or overnight.
Preheat oven to 350 degrees F.
Remove the dish from the refrigerator and let come to room temperature.
Bake, uncovered, for 35-40 minutes or until puffed and edges are light golden brown.
Serve immediately with individual pieces turned over with the caramel on top.