Creme Brulee - by Stacey and Jo
Jb Tyler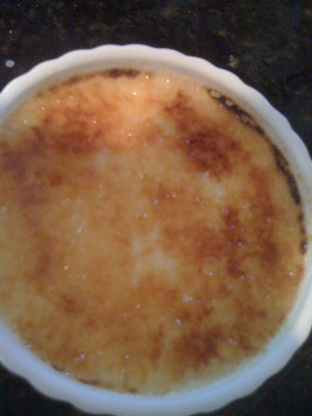 Rich, decadent dessert worth the calories! Crisp sweet crust - it's simply the best recipe. My good friend and I decided to make several creme brulee recipes one day and vote which one was the best. With a tiny bit of tweeking this one is the winner hands down! Delicious with sliced sweet fresh strawberries.
In a heavy saucepan, combine the cream, milk and vanilla. Heat to boil. Remove from heat, steep 10 minutes. After 10 minutes scrape vanilla bean seeds into milk mixture. With electric mixer, combine eggs and sugar. Add milk mixture in a steady stream. Strain and skim foam. Pour into ramekins set in a baking dish with hot water around ramekins.
Bake 325 degrees F fo 25-30 minutes.
Sprinkle tops with sugar and use a small torch to brown the sugar, this could be done in broiler.