buzzsau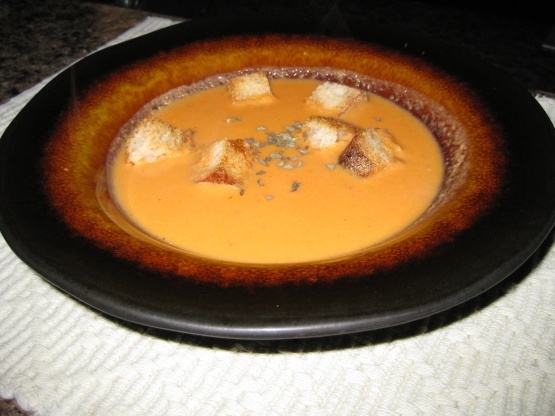 This is a recipe I got off of Epicurious back in 2002. It is excellent! Wonderful homemade tomato soup! I use San Marzano tomatoes for this and crush them myself. Also, you can use fat free sour cream to lighten the recipe.

Loved this! Creamy, comforting and oh SO YUMMY!!!! Who needs soup out of can when making it yourself is so much better!!! Thank you for posting this delicious recipe buzzsau! Made for 2009 Spring PAC
Preheat oven to 350 degrees.
Cut enough bread into 3/4" cubes to measure about 3 cups and arrange in one layer on cookie sheet. Toast bread until golden and crisp, 10-15 minutes or more depending on your oven.
Finely chop carrots, celery, onion and garlic. In a heavy 4 to 5 quart pot, cook the vegetables and garlic in olive oil with salt and pepper to taste over moderately low heat, stirring until tender but not browned, about 10 minutes.
Add wine and boil 3 minutes.
Add tomatoes, oregano and 1 cup water and simmer uncovered, stirring occasionally, 20 minutes.
Remove pot from heat and whisk in heavy cream and sour cream. Cool soup for 10 minutes.
In a blender (or immersion blender), puree soup in batches (USE CAUTION WHEN BLENDING HOT LIQUIDS, DON'T FILL TOO FULL) transferring pureed mixture to a large bowl.
Return soup to pot and thin to desired consistency with remaining water.
Season with salt and pepper and heat over moderate heat, stirring, until heated through (DO NOT LET BOIL).
Serve soup ladled over croutons in large bowls.