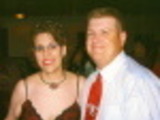 These are fabulous for any Halloween party. FYI....At Chrstmas you could also turn these balls into decorated Christmas ornaments(colored almond bark and 6mm size silver sugar pearls/dagrees)
Directions
In mixing bowl stir together peanut butter and butter.
Gradually add powdered sugar until combined.
Shape into 1-inch balls; place on waxed paper. Let stand about 30-45 minutes.
In small bowl melt almond bark in microwave(2-4 mins depending on wattage).
Dip balls into almond bark one at a time. Let excess bark drip off balls then place on waxed paper.
Immediately press a M&M into center of each ball.
Let stand until almond bark coating is firm.
Add a dot of black gel to the center of M&M for pupils. Drizzle red gel onto balls for bloodshot eyes.
Reviews
Most Helpful
These Halloween treats were yummy as well as cute. I did add extra powdered sugar and chilled the balls to make them easier to dip; I also had to melt extra almond bark, as I ran out before I got all the balls dipped. I followed the recipe otherwise and think they made a great presentation. (I liked the look of the decorating gel, but think it may be more practical in some instances to use an icing that actually "sets".) Thanks for posting this fun recipe!

Great Idea! Made them with my nine year old. We took them to a birthday party (that conveniently was a couple days before halloween). They were the hit of the party. They were sloppy dipping and the eyes didn't come out smooth, but that may be my lack of candy making education. It didn't change the fact that they were fun and very cool.