Joy M.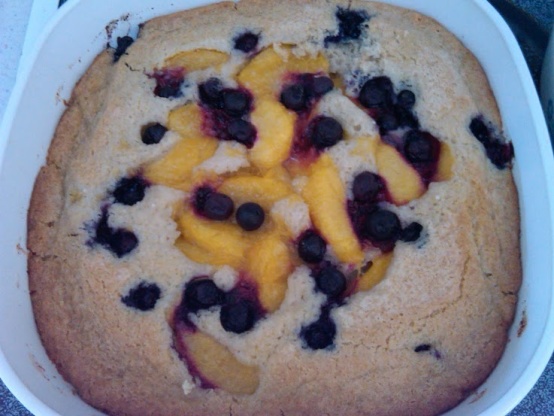 It's called Creeping Crust because the CRUST WILL RISE TO THE TOP AND CREEP OVER THE FRUIT. My family loves cobblers and this recipes adapts to any fruit and is the best I've made or eatten. Serve warm or cold and don't forget the ice cream.

Top Review by Joy M.
This has been a favorite cobbler for years. Today I used one fresh peach, two plums, and about a cup of fresh blackberries. Its so easy, and so good, there's no reason not to make it. I make a gluten-free version with Pamela's baking mix that's also very good. Just use Pamela's in place of flour, you may have to adjust the flour liquid ratio. The batter should not be too thick or the crust won't creep!
Melt BUTTER in 10 inch baking dish and set aside.
Mix FLOUR, SUGAR, BAKING POWDER together in bowl.
Add MILK to flour mixture and GENTLY STIR BY HAND until all flour is wet. DO NOT OVER MIX DOUGH - overmixing makes the crust tough.
Evenly Spoon DOUGH over the butter in your baking dish (do not mix or blend, just let the butter go where it wants to go).
Place FRUIT over dough. - You can always use more or less fruit.
BAKE at 350 degrees for about 30 minutes depending on your oven.
CRUST WILL RISE TO THE TOP AND CREEP OVER THE FRUIT.