Creamy Zesty Herbed Chicken
ImPat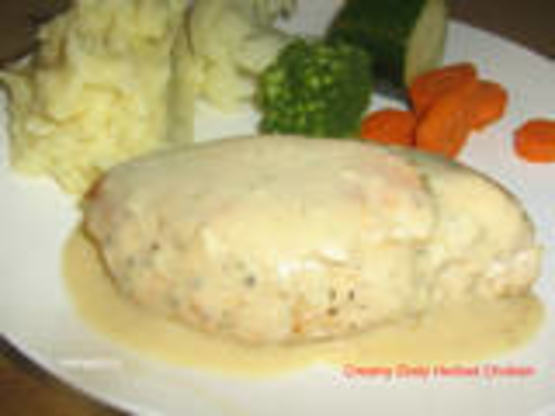 Developed for RSC #15. Crazy simple but oh soooo good!!!

Top Review by ImPat
There was a tussle in rating this going from a 2 to a 4 so we settled on a 3 but I upped it to a 4 for I feel if I had used thighes that is were it would have been but I used chicken breasts (due to the DH's dislinke of thigh) and though they were moist my main problem was with the sauce. I feel that 1/3 cup of flour is way too much (cut that back to 1 1/2 to 2 tablespoons maximum) as even with oil that I had left in the pan from cooking the chicken breasts barely moistened the flour but I went ahead but in the end I had to sieve the mix to get a smooth sauce which was flavourful but for our tastes would cut back on the thyme. Still a good recipe that I thank you for Elmotoo, made for Recipe Swap 62 Aussie/Kiwi Recipe Swap March 2012.
Season chicken on both sides with salt & pepper. Fry chicken thighs in 12" (cast iron preferred) skillet. If there's skin, you won't need additional fat. If they're skinless, you may want a touch of oil. Remove to plate when cooked through.
Add flour & whisk until smooth. Add roasted garlic, cream cheese, thyme, lemon zest & juice. Whisk until smooth & bring to a boil. Add chicken thighs back to pan. Cook for a few minutes; taste for seasoning & add additional salt & pepper if necessary.
Enjoy over rice or noodles.