loof751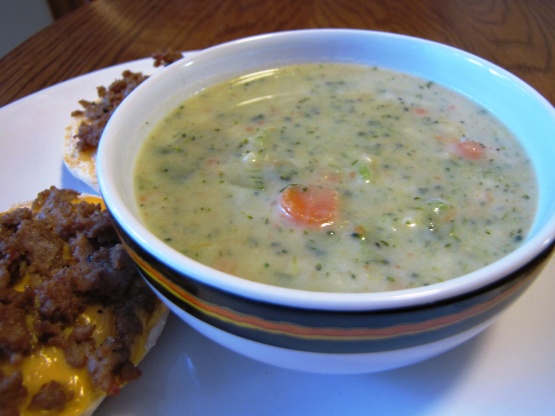 From a cutout of a magazine and all I have is a name of submitter R. Zagrzebski - so I'm assuming it is from one of my many TOH magazines. I adjusted it just a bit by adding a couple extra veggies. Great served with a whole wheat crusty bread.

Oh boy, this was a lovely soup for a cold night! DH often requests vegetable soup for our weekly soup night, and I am always on the lookout for a recipe that will deliver more nutrition (ie protein, calcium) than my basic veg soup. This one certainly fit the bill! I made half a recipe and it still made quite a bit of soup; more than enough for my family of 3 with some left for lunch. The only changes I made were to sub one cup of green beans in for some of the cauliflower and add peas instead of the brown rice. A nice healthy shake of salt and pepper at the end made this just perfect for us. Served with Recipe #410822 and butter, this was a soup-lover's dream. Thanks for posting!! Made for Newest Zaar Tag.
In a large soup pot, combine broth, carrots, potatoes, onions and rice; cover and bring to a boil.
Reduce heat, simmer for 20 minutes.
Add broccoli, cauliflower and zucchini; simmer for 20 minutes or until veggies are tender.
Cool slightly.
Puree half of the mixture in a blender or food processor then return to soup pot.
Add milk and pepper; mix well.
Heat through but DO NOT boil.