Creamy Vanilla Coconut or Banana Ice Cream (Dairy & Soy Free
Um Safia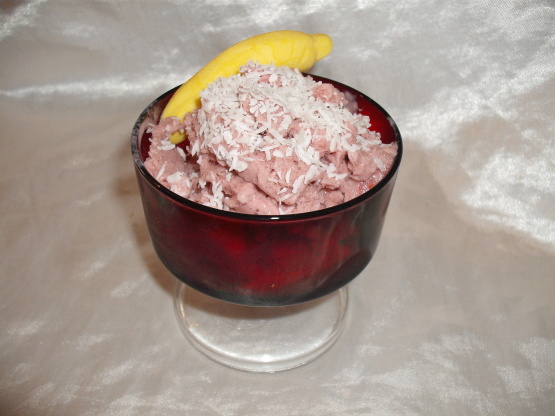 ZWT7, South & Central America. What rice milk frozen desserts lack in creaminess. You should like coconut because you can still taste it here in the banana free version. Recipe modified from http://gnowfglins.com.

I used light coconut milk, 2 bananas and 2 spoons of curd to make it thicker. The consitency after the icecream machine had worked with it for 20 minutes was very soft but i but it in the freezer and took it out 15 minutes before serving the night after. It was just perfect! We put some chocolate sauce ver it and served with fresh blondies. Thank you for this great recipe, from now on i am going to use coconutmilk a lot in icecream making! Made for Ramadan Tag Game 2009
1

(16 ounce) canfull fat coconut milk
1⁄2 cup minus 2 tbs maple syrup or 1⁄4 cup Agave

4

tablespoons alcohol-free vanilla
1⁄2 cup rice milk (or other milk substitute)

1

teaspoon guar gum (the original recipe didn't call for this but I think it improves the consistency)

2

ripe bananas (optional)
1⁄3 cup finely chopped cashews (or other additions) (optional)
cinnamon, to sprinkle on top (optional)
Combine all ingredients (optionals) in a blender.
Blend thoroughly.
Add to ice cream maker, following manufacturer�s directions for churning.
For soft serve ice cream, eat immediately. For a harder ice cream, transfer to an airtight container and freeze for several hours to a day, depending on degree of hardness desired.
Enjoy!