KrisLady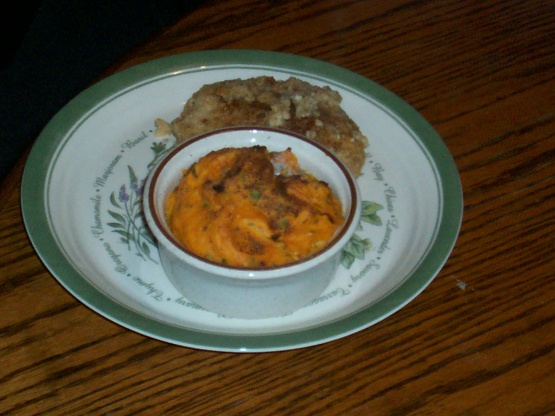 We've frequently had sticky-sweet sweet potatoes as guests. They're good, but my family doesn't like their dessert for dinner! This is another way to prepare a traditional food for Thanksgiving, and it goes so well with turkey. It's fast and doesn't take up much oven space, either, so I figure it's a win-win dish any way you look at it. For leftovers, my daughter likes to reheat it and add a plop of cottage cheese on top (which she then eats for breakfast).

I make a huge batch of this because there was a sale on sweet potatoes but my family did not like it at all. I don't think the cheese pairs well with sweet potatoes at all. I guess I just prefer mine with plain butter and salt or sweetened. We threw it out and we won't make it again.
Scrub potatoes well; pierce with fork.
Cook on high in microwave 6-8 minutes; actual cooking time may vary with size of potatoes and size of oven.
Cut potatoes open and scoop out cooked flesh into medium mixing bowl. Add all other ingredients and mix well, until the cheeses and butter are incorporated, and potatoes are smooth.
Spray a small casserole dish with cooking spray (I use an oblong ceramic baker, so it fits around other dishes). Mound the potato mixture in the dish.
Bake in a 325 degree oven for 20-30 minutes (just enough time to rest and carve your turkey!) or until the "peaks" of the potatoes start to brown.
Place a pat of butter on top and serve right out of the baking dish. Yumm!
Serving size is for small dollops, as this is how many guests we have at Thanksgiving, there's hardly ever any left over, and we have lots of sides.
To freeze for future use, cook as above. Let cool to room temperature, and spoon into zipper freezer bags in the quantity you desire. Labeling the freezer bags with contents and quantity before filling is recommended. Zip the bags closed and flatten to distibute mixture and "burp" to get rid of any extra air in the bag. Best used within 3 months of freezing.