Parsley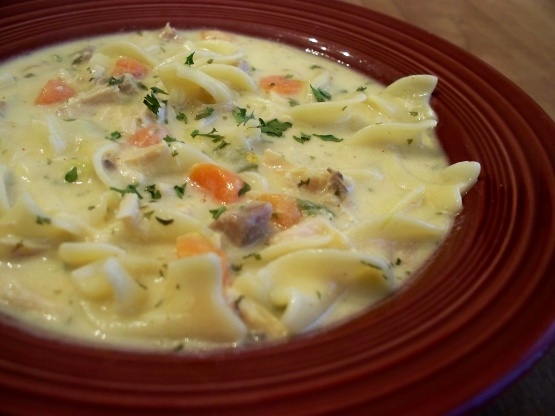 This goes together in a flash-and is really flexible for using ingredients on hand. You can either make this with noodles or dumplings, or leave them out. We like our soup salty, so adjust that to your taste.

This soup was amazingly good! If you dont have turkey, it would be just as great with chicken! While eating this soup it was so comforting but was a soup that I could see making/eating when someone is under the weather. Its that type of soup that would make you feel better when your sick. I pretty much followed the recipe exactly, except before adding the turkey and noodles I simmered the broth and veggies to flavor it well. Probably about 30 min. later I added the turkey and egg noddles and cooked per the directions. Sooooo good! Nice and flavorful. It tastes just like a Homemade chicken noodle soup but creamy! I can really see how others have said that this would be amazing as well by adding in dumplings for chicken and dumplings. Thanks so much for this recipe! I cant wait to make again to test on someone or myself when they arent feeling so well.
Saute onions and carrots in butter until soft, not brown.
Add flour and mix well.
Gradually add 2 cups broth and milk.
Cook and stir until it thickens.
Stir in remaining 3 cups broth, and all remaining ingredients.
Simmer 10-12 minutes until noodles are tender, stirring occasionally.